How to Choose the Perfect Child Bike Seat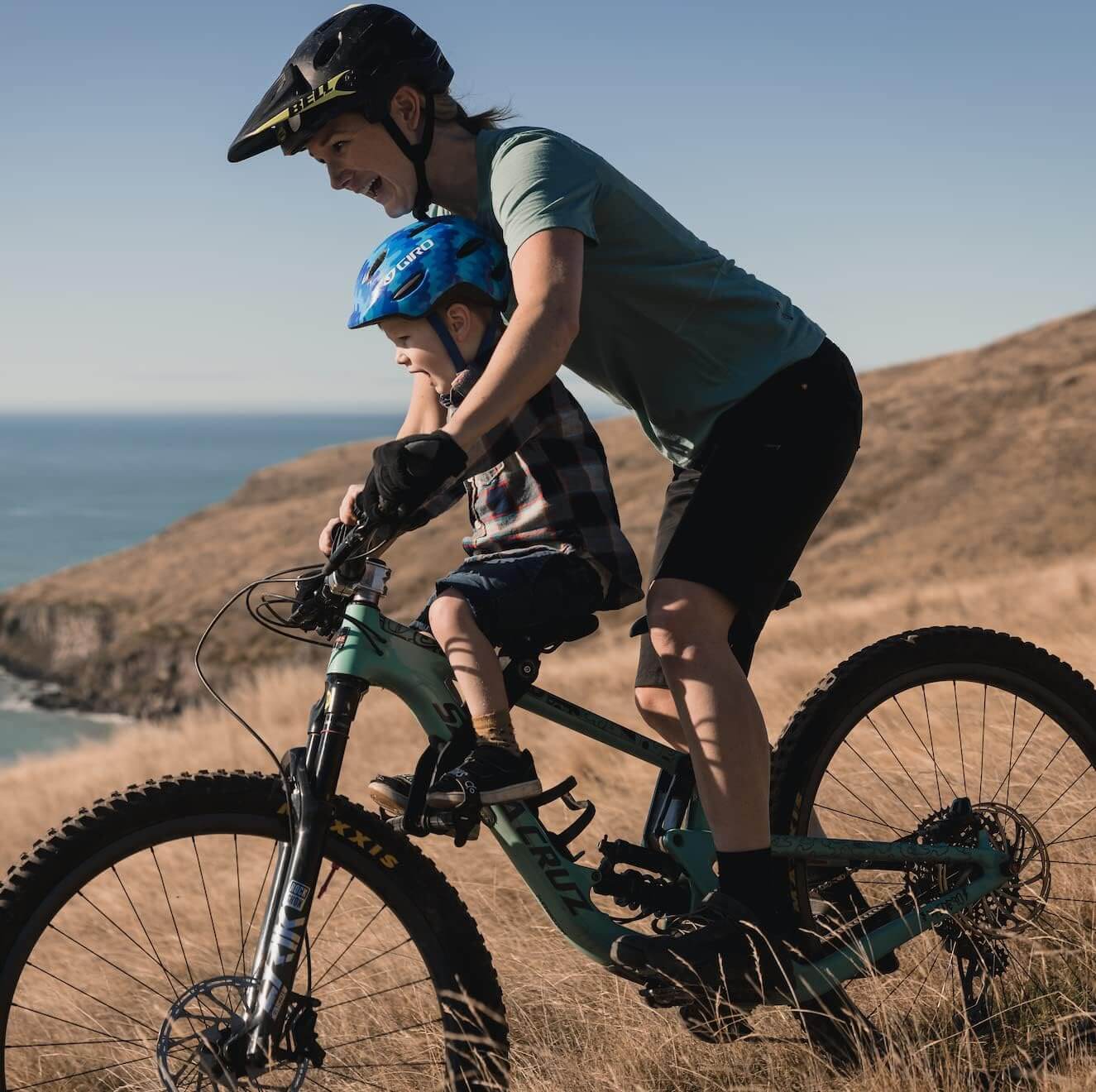 Engaging the family in outdoor activities can be both fun and rewarding, and cycling tops the list for many. Including the smallest members of the family may sound like a challenge, but with the right gear, it can turn into an absolute delight. One such essential gear is a kid's bike seat. Choosing the perfect bike seat is a crucial task, as much for your peace of mind as for your child's safety and enjoyment. After reading, we hope you'll feel empowered to make an informed decision.
Understanding Child Bike Seats
There is a myriad of bike seats for kids available, best differentiated by where they are mounted on your bicycle. These largely boil down to three types: front-mounted, rear frame-mounted, and rear rack-mounted seats. As the name suggests, front-mounted seats are attached directly behind the handlebars, placing your child securely right between your arms. Rear frame-mounted seats, on the other hand, are attached to the bike's frame, and rear rack-mounted seats secure to a rack installed over the bike's rear tire.
Factors to Consider
Safety
Look for seats that adhere to stringent safety standards. Ensure that there are safety features like a footrest, a handlebar, etc., which provide a secure place for the child to rest their feet and hands during the ride. This will not only keep them away from the bike's moving parts but also contribute to their balance.
Comfort
Evaluate the level of comfort and support the bike seat offers. This includes checking the seat padding, adjustable footrest, and a handhold for the kid to grip during the ride. A footrest and a handhold allow the child to sit back and enjoy the ride in a relaxed posture, while good padding offers a comfortable space to sit over extended periods. Without them, the kid may need to awkwardly angle their legs and hands or keep them in uncomfortable positions.
Size and Age
The seat should allow enough room for your kid to fit comfortably and safely, and the recommended age range should accommodate your child's current age and last them for a few years of growth.
Mounting System
Make sure the bike seat is designed to fit your bike's design and does not interfere with your ability to ride and control the bike safely. It's ideal to opt for a universal seat – one that is adaptable to various types, make, and models of bikes. This not only offers versatility but also assures that you can still utilize the seat even if you decide to change your bike in the future.
Ease of Use
Consider how simple or complex the installation process is, as well as how easy it is to get the child in and out of the seat. A quick and hassle-free installation not only saves time but also ensures the seat is secured correctly for each ride. An option like those featuring a quick-release attachment allows the seat to be fitted or removed with minimal effort, making it incredibly user-friendly.
Price
While considering the price, it's vital to remember that you're investing in the safety and comfort of your child. While budgets are indeed essential, pitch for a comprehensive blend of safety features, comfort, ease of use, and durability. A well-selected, quality child bike seat can last through several years of use, ensuring the investment you make now will continue to return value in the future.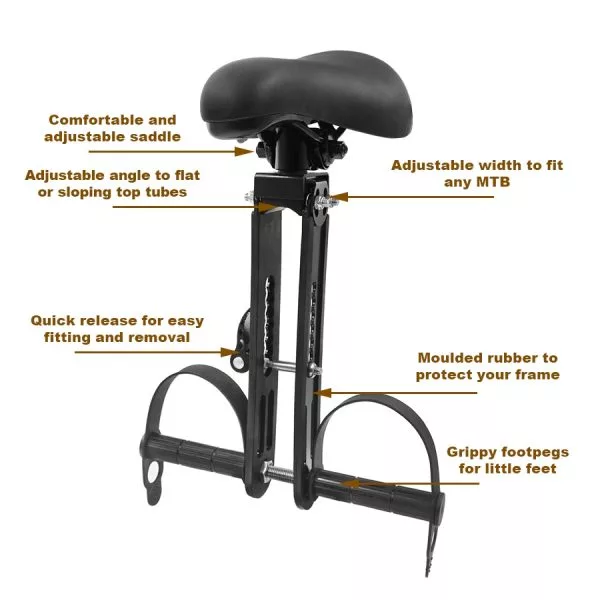 Advantages of Front Seats over Rear Ones
Front-mounted seats truly shine when compared to their rear-mounted counterparts on numerous fronts. One of the prominent advantages is the ability to have your child directly in your line of sight for the entire ride. This positioning facilitates not just easy communication with your little one but also enables you to keep an eye on them at all times, enhancing overall safety. Furthermore, front-mounted seats offer an added benefit for the children themselves. Unlike from the rear, they are no longer just staring at the cyclist's back but have an unobstructed view of the surroundings. This increases their engagement and makes the ride more interactive and interesting for them.
Another advantage of such seats lies in improved balance and control. Having the weight of the child in the front allows for a more even distribution over the bike, which can make a notable difference, particularly during uphill climbs or when maneuvering through tight spaces. Finally, these seats are less likely to interfere with any luggage or gear you might have on a rear rack, providing the cyclist with more flexibility.
All these factors put together set kids' bike seats a class apart from rear-mounted ones, making them an excellent choice for those seeking a safe, comfortable, and rewarding biking experience.
Tips for Safe Usage
Ensuring the safe and effective use of a child seat begins fundamentally with correct installation. An improperly installed seat not only compromises your child's safety but can also affect cycling comfort and efficiency. Following the manufacturer's instructions step-by-step can guarantee a proper fit.
Regular inspection of both the seat and bike's condition is another key safety measure. Make a habit of routinely checking the seat to make sure it is secure and in good working order. Look for any signs of wear and tear on the bike that may affect its safety or performance.
Lastly, don't underestimate the importance of safety gear for the child. Even with the best seat with safety features, complete protection isn't guaranteed without the use of a helmet for your kid. Helmets should be correctly sized, properly positioned on the head, and securely fastened.
Keeping these tips in mind, you can ensure the maximum safety and enjoyment of your cycling experiences with your child and a front-mounted bike seat.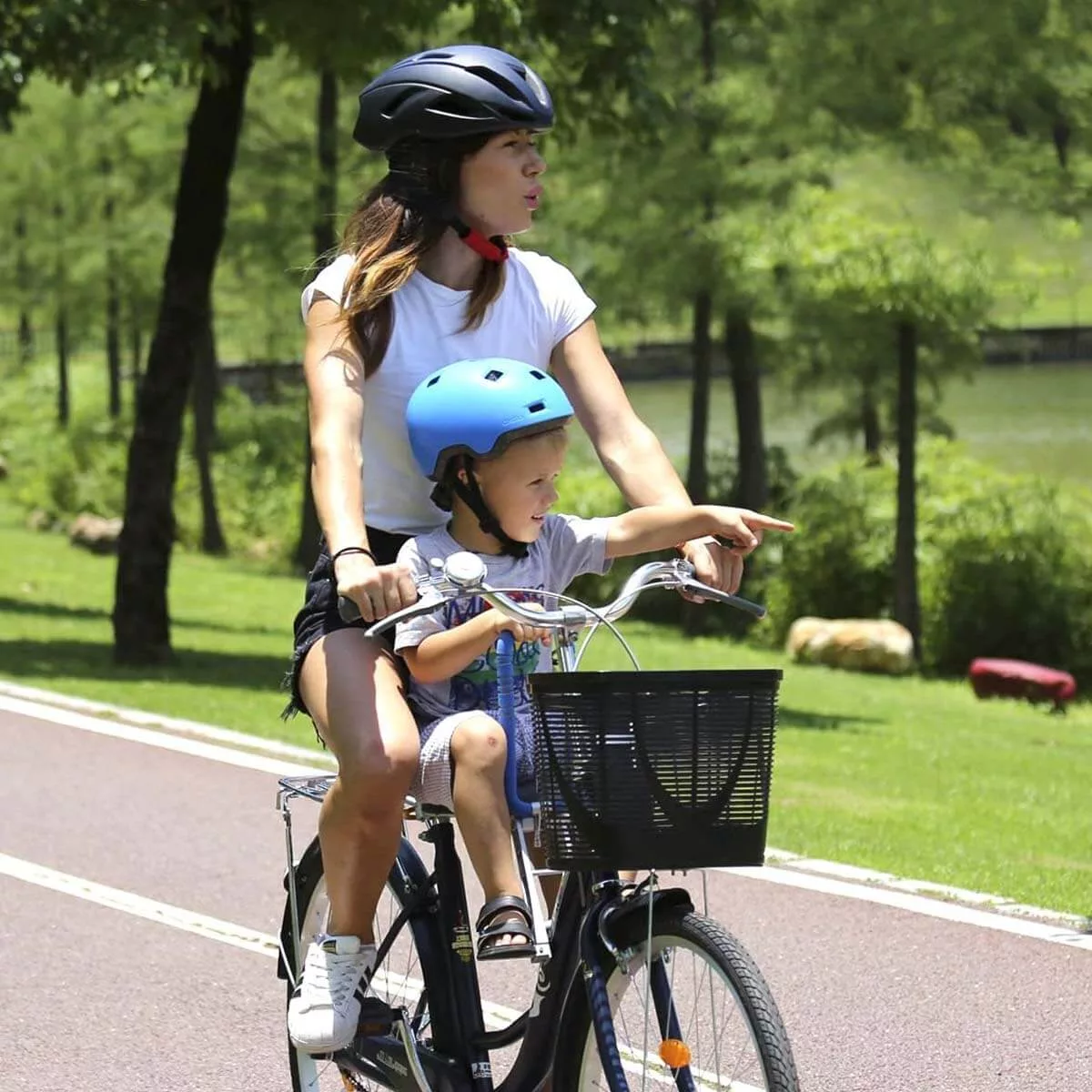 Personal Insights
As a mother of a curious and energetic 3-year-old, the safety and engagement of my kid during our bike rides were paramount. Located at the front of the bike, the Threo child bike seat allowed me to keep an eye on my little one and interact with him during our rides. Riding with him in front of me eliminated the constant need to glance back.
Assembling the seat was a breeze, even for someone as un-handy as I am! I managed to fit the seat securely onto my bike in less than five minutes, thanks to the clear instructions provided. Its universal quick-release bracket fit perfectly onto my bike frame, and switching the seat from one bike to another was a simple, easy process.
It is expertly designed not only to promote active learning for the child but also to ensure the utmost safety. Nestled between my arms, my son felt safe and secure on every excursion, while its design still allowed for my natural bike handling. The adjustable and soft saddle didn't interfere with the balance of my ride, yet it kept my son fully secure without compromising his comfort. The added feature of an additional handlebar was the cherry on top, providing my son with extra support during our rides.
One of the major concerns before using this seat was the potential damage it could pose to my bike frame, especially since I own a carbon fiber bicycle. It, however, came with a full rubber protection feature, proving it's safe even for an alloy or carbon-fiber frame — a feature not commonly found in other kids' bike seats.
All in all, the THREO child bike seat is a great combination of safety, comfort, and interaction. I'd highly recommend it to any parents seeking a safe and reliable option for their bike rides.
Conclusion
In summary, the process of choosing an optimal child bike seat demands careful consideration and should never be rushed. Based on personal usage and variable factors we have considered, it is unequivocally clear that front-mounted kid bike seats excel in all aspects. These seats not only allow your little one better views but also optimize the comfort, balance, and pedaling for the parent cyclist. It is pertinent that parents prioritize their children's safety by adhering to safety standards, ensuring correct installation and routine checks, and inducing the habit of wearing safety gear.
FAQ
What safety features should I look for in a child bike seat?
Look for bike seats that have a secure mounting system, adjustable footrests, and a comfortable and padded seat. Some seats also come with additional features like a handrest for added protection.
Can I use the front seats on any type of bike?
Front-mounted bike seats are generally compatible with most types of bikes, including mountain bikes, hybrid bikes, and cruiser bikes. However, it is always recommended to check the compatibility of the seat with your specific bike model.
What age can kids use bike seats?
Kids can start using bike seats once they can sit up unassisted, typically around 9-12 months. However, it's crucial to check the manufacturer's age and weight recommendations. Some seats, like the Threo front-mounted child bike seat, are specifically designed for children aged 2-5 years and weighing less than 48 pounds.